Tinkersfield is what inspired Work From Here's founder Dave and his partner Rebecca to work remotely when they visited Crackenback in June 2020, and it's easy to see why. Rustic, modern comfort in the heart of the Snowy Mountains
It's a relaxing, boutique mountain retreat in the heart of the Snowy Mountains covering about 800 hectares and nestled in a secluded field in the Crackenback valley, minutes from the resorts & Lake Jindabyne.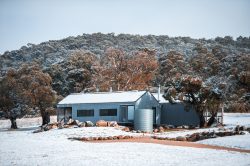 Tinkersfield was once home to a post-office and timber field, but has been transformed into its sumptuous escape and your future remote workplace by former-hotel stylist Sonja and chef Warren.
There is a variety of unique, iron and timber country buildings to serve as your remote workspace at Tinkersfield. Choose from the enchanting charm of The Post Office, the rustic, modern comforts of the spacious Barn or the sweeping mountain country views of the Field Houses. We absolutely love the Field Huts which can be 1 or 2 bedrooms and of course, each with a fire place.
There is so much to do on your days off – skiing and snowboarding just minutes away, stunning walks and all manor of other activities. Tinkersfield is beautiful all year round, and it's even walking distance to Wildbrumby Distillery to warm you up on those chilly days (maybe after your last Zoom call for the day).
Normally this part of a listing is where we would tell you about all the wonderful places to eat nearby, but truthfully, let Warren cook dinner for you from whatever fresh produce he has on hand – it beats anything in the area.